Lyda here. Today is Random Virtual Shopping Day!
Just because I can.
Wandering around the blogiverse, I came across a link to this blog – thanks, Marin! – which lead me to this shopping site.
I know a few people who really need these Gothic Drink Charms: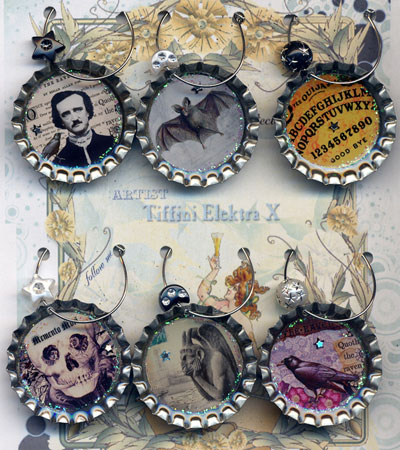 or maybe the Dia de los Muertos set.  And then there are my friends who need the black cat set, or the witches set. Although some people might prefer the Greek Muse drink charms. Or one of the Alice in Wonderland sets like this one, or the Wizard of Oz set, or…
She also has buttons and magnets – in case you are a mostly solitary wino like me   a tea totaller – and cards and jewelry. And awesome original artwork. Maybe it's just as well someone beat me to this.
And speaking of shopping for skulls… Here's some for your desktop. Feel free to add a coworker's skull to the collection, of course. And here's a shirt for Mondays (also appropriate for April 15th).
And what would virtual shopping be without zombies? No fun, that's what! You can have your very own zombie friend to play video games with, just like Shaun.
And while you're at it, get your own sonic screwdriver, just like the Doctor's. Although a Tardis ice bucket would also come in handy, especially if you're using those wine charms a lot.
And ya'll probably need a Dalek bottle opener (scroll down, it's there).
Of course, the day after all that drinking, you might need to wear this.
I'm just a Smeghead, what can I say?